History
Organized in 1975, as a chapter of the Massachusetts Society of Genealogists, we became an independent society in 1981. We are home based at the Local History and Genealogy Room of the Lynnfield Public Library. Our collection includes approximately 3000 volumes of genealogies and town histories. The collection also includes a complete run of the Massachusetts vital records in printed form and on microfiche, microfilm of Essex county census, early probate, and deed records, and many journals and genealogical periodicals. We also house some sources for other areas outside of Essex county, such as greater New England, New York, and Atlantic Canada.
---
Meetings
Meetings of the Society are held the third Saturday of each month, except January, June, July and August. Occasionally we will hold a meeting on a date other than the third Saturday of a month, for special occasions.
All meetings are held at Centre Congregational Church, 5 Summer Street, Lynnfield Center, MA. Time is 12 Noon, Social Hour; bring lunch. Desserts and coffee will be provided by the society. 1:00 PM Business meeting, followed by program. Guests and friends welcome, except those meetings noted otherwise. Handicapped accessible (elevator available on first floor next to library) The church is located at Summer and Main Street, next to the Lynnfield Public Library. This is a good time to catch up with fellow member's genealogical adventures.
We engage speakers who are well known in the many aspects of genealogy and local history, those presenting specialized genealogical interests, administrators who work in public records, and on occasion, historical dramatists.
Guests are welcome to all except our December meeting, which is restricted to members and spouses only. In December, we hold our annual "pot luck" luncheon, featuring a "show and tell" program by our members, in which we engage in telling stories of our genealogical "finds"and adventures.
---
Research in Essex County, Massachusetts
September 2010. The Essex Society of Genealogists, Inc., is pleased to announce the publication of Research in Essex County, Massachusetts. This publication contains the types of records and their locations for Amesbury, Andover, Beverly, Boxford, Danvers, Essex, Georgetown, Gloucester, Groveland, Hamilton, Haverhill, Ipswich, Lawrence, Lynn, Lynnfield, Manchester-by-the-Sea, Marblehead, Merrimack, Methuen, Middleton, Nahant, Newbury, Newburyport, North Andover, Peabody, Rockport, Rowley, Salem, Salisbury, Saugus, Swampscott, Topsfield, Wenham, and West Newbury. The cost is $4.70 plus $2.00 shipping & handling.
Please note that there is a 6.25% sales tax required, for residents of MA. ($.30).
Checks may be made payable to ESOG and mailed to P.O. Box 313, Lynnfield, MA 01940-0313
Please see this and other items for sale by the Essex Society of Genealogists in the Items for Sale section of the website.
---
Essex County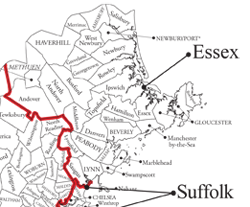 Essex County is adjacent to Rockingham County, New Hampshire (north), the Atlantic Ocean (east), Suffolk County (south), and Middlesex County (west). All county land is incorporated into Towns or Cities.